3-AXIS MOTION (STEPPER MOTOR CONTROLLER KIT
SPECIFICATIONS:-
DRIVER: Unipoler (full step), maximum 14 Amp (peak)
maximum 10 Amp (continuous). 12 VDC for kit
and 12-50 VDC for motor
INTERFACE: LPT(25-pins) , Straight cable
MOTORS: Unipoler (5,6,8 wires), NEMA 13, 17, 23, 34
1.8 degree, 200 steps / rev
SUITABLE FOR:
For motion controller devices. e.g. CNC and ROBOTICS projects.
Fully compatible (designed) for Mach3, Kcam and other motion
control softwares.
Also suitable for students and professionals
(beginning level) who wants to make cnc machines at home.
TESTED: Tested and verified on Mach3 CNC WOOD ROUTER (small size)
INSTALLATION The pin configuration and installation procedure is included in
the purchase package.
PRICE: Rs:5000/-
CONTACT: Javed Rafique 03335151445
pakcnchome@gmail.com
NOTE:
This kit does not include motors and power supply.
COPERATION
PAKCNCKIT
is thankful and appreciate the role of students of
AIR University Islamabad Pakistan. Specially Shaharyar Amjad
Mechatronic Engg.
You can see three stepper motors are running through mach3 with an Eagle design for wood here.
cnc stepper motor driver kit is available at Islamabad, Pakistan contact: 03335151445, 03235852670
e-mail: pakcnchome.gmail.com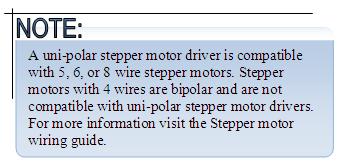 STEPPER MOTOR TUTORIAL
JUSTBEENPAID.COM